Super STONERBOWL Predictor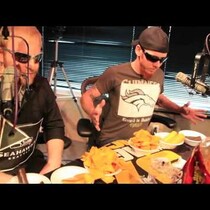 Posted January 31st, 2014 @ 2:12pm
WHO WILL WIN THE SUPERSTONER BOWL?

Special thanks to Seahawks Kevin, Bronco's James and Eli the Sports guy for some great play by play commentary. Representing two states where weed is legal, this superstoner bowl predictor is near precision accuracy. In a smorgasbord of stoner munchie food, 2 twinkies, 2 ho-ho's, and a bowlful of Doritos chips, which ever player finished first would predict the winner of the Supergame Sunday.
THE ULTIMATE PRECISION INDICATOR WITH ABSOLUTE ACCURACY!